Research team: Prof. Helena Hamerow (PI), Dr. Chris Ferguson, Dr. John Naylor, Dr. Jane Harrison, DPhil student Adam McBride
The Anglo-Saxon kingdom of Wessex is popularly assumed to have originated around its later capital, Winchester.  In fact, its origins lie in the Upper Thames Valley, a region topographically bounded by the Cotswolds, Chilterns and Berkshire Downs.  Following the collapse of Roman authority in the 5th century, a new kingdom emerged around the Dorchester-on-Thames area during the late 6th and early 7th centuries.  The documentary history of this kingdom is largely one of warfare and conversion.  However, the reality behind these documents is more complex, and to understand this reality we must turn to the archaeological evidence.  The Upper Thames Valley boasts one of the densest concentrations of Anglo-Saxon archaeology in England.  This body of evidence is constantly growing and has enormous potential to illuminate the process by which kingdoms coalesced between the 5th and 8th centuries.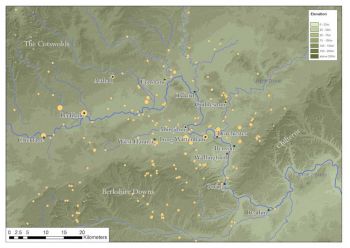 Distribution of early Anglo-Saxon metal-detector finds from the Upper Thames Valley, based on the Portable Antiquities Scheme.
The Origins of Wessex project is using the growing body of archaeological evidence to study the emergence of supra-local power structures in the Upper Thames Valley.  This project combines new fieldwork at Long Wittenham, Oxfordshire – long known to be the site of an Anglo-Saxon cemetery with richly furnished burials and now shown also to have a complex of exceptionally large Anglo-Saxon buildings -- with a broader study of power centers and power networks in the Upper Thames Valley.  The Origins of Wessex project began in 2012 with a pilot study, supported by the John Fell Fund and conducted by Helena Hamerow, Chris Ferguson and John Naylor.  This pilot study identified potential routeways and concentrations of activity in the Upper Thames Valley through a tripartite study, combining a review of excavated settlements with a study of the distribution of coins and high status artefacts and a GIS driven landscape study of the Abingdon to Dorchester-on-Thames area of Oxfordshire (Hamerow et al. 2013).  This study found two major concentrations of activity around the Abingdon to Dorchester-on-Thames area and the Lechlade area, with a more diffuse concentration of activity in the lower Windrush and Evenlode Valleys.  The Roman road network appears to have remained important, but high status artefacts also display a strong riverine distribution.  The GIS driven landscape study also identified an important routeway linking a great hall complex at Sutton Courtenay with another at Long Wittenham and with the episcopal seat at Dorchester-on-Thames.  A visibility analysis of this routeway revealed what appear to be three distinct zones of visual control centered on Sutton Courtenay, Long Wittenham and Dorchester-on-Thames (Hamerow et al. 2013).
Garnet-inlaid composite disc brooch from West Hanney, Oxon. Photo: I. Cartwright, Institute of Archaeology, University of Oxford © Oxfordshire Museums Service.
Building on the Origins of Wessex pilot study, part of Adam McBride's doctoral research looks at the distribution of social and economic power in the material culture of cemeteries, settlements and findspots across the Upper Thames Valley.  Power in cemeteries is analyzed through the quantification of burial wealth, in individual burial and across entire cemeteries.  The burial wealth of entire cemeteries is expressed as an average of all the burials in that cemetery.  Power in settlements is analyzed through a combination of qualitative attributes and quantified material culture.  The qualitative attributes include building size, spatial organization, ritual activity, faunal assemblage and craft-working evidence.  The quantified material culture is analyzed according to functional categories, such as weaving tools or dress accessories, which are used to identify possible material culture signatures associated with high status sites.  Wealth as indicated in individual  findspots, primarily represented by metal-detected finds recorded in the Portable Antiquities Scheme and the Early Medieval Corpus of Coin Finds, is analyzed by individual artefact as well as the spatial distribution of these artefacts.
Anglo-Saxon building under excavation at Long Wittenham, Oxon. Photo: A. McBride.
The second strand of the Origins of Wessex project is a new program of fieldwork at the postulated great hall complex first recognized in aerial photographs at Long Wittenham, Oxfordshire.  This fieldwork is led by Prof. Helena Hamerow, Dr. Jane Harrison and DPhil student Adam McBride, with the help of a team of 30 volunteer excavators from the local area.  Long Wittenham has been previously identified as a possible early/middle Anglo-Saxon power center from aerial photographs, but the site has never been ground truthed.  The current project began with a magnetometer survey in 2015, which indicated the presence and location of several possible post-in-trench timber buildings.  In August 2015, one of these possible buildings was tested by two trial trenches, and then in September 2016, another possible building was fully machine stripped and excavated.  The first feature is now interpreted as a Late Roman ditched enclosure, but the second has been positively identified as a 12 x 6m post-in-trench timber building.  The form and construction style of this building are very similar to buildings excavated at other 7th century power centres like Sutton Courtenay, Oxfordshire, and Yeavering, Northumberland.  The positive identification of a high status site at Long Wittenham adds to a growing number of 7th century centres in the Abingdon to Dorchester-on-Thames area, suggesting an intensively exploited landscape.
Reference:
H. Hamerow, C. Ferguson, J. Naylor (2013), 'The Origins of Wessex Pilot Project', Oxoniensia 78: 49-69.